Experience a collection of

mesmerizing views

shot from The Cats Estate. Yes it's astonishing, yes you want to see it.

Audio/video credit: Duane Adam


This glorious estate consists of 9 separate parcels (including "The Ranch" and adjoining parcels) with just over 75 total acres. Some of the famous features include the Gate House, the main house, the courtyard and the amphitheater. Experience them in this first video.


Audio/video credit: Duane Adam




e-mail Duane Adam




The artwork, the Poet's Cottage, the secret benches, the first owners. See why so many have fallen in love with this magical place.

Audio/video credit: Duane Adam





e-mail Duane Adam


While the estate has a prominent history, it remains young at heart. Experience the exhilarating back acreage in part three of our video series.

Audio/video credit: Duane Adam

At A Glance
The Gate House
Completed in 1929, astonishing views. Notable tenants were Pierce Holt and Bill Romanowski of the SF 49ers.
Los Gatos has been home to many great and talented people. Throughout history, authors, dancers, community leaders, inventors and business leaders have all been part of the Los Gatos community. Charles Erskine Scott Wood was born in 1852. He graduated from West Point in 1874. In 1877 he took part in the campaign against the Nez Perez Indian tribe that was led by Chief Joseph. After Chief Joseph surrendered, the two men became friends and kept in touch through their later lives.
The Main House
Completed in 1925 by architect/engineer Walter Steilberg, this enchanting home has one of the most extraordinary living rooms in existence. The Greek Theater to the front area overlooks the larger Silicon Valley areas with breathtaking views.
C.E.S. Wood worked as an attorney in Oregon and represented many world-changing figures. He and Sara Bard Field came to Los Gatos in 1919. Together they built the estate known as "The Cats." The two large cats that you see on Highway 17 mark the entrance to this estate. C.E.S. Wood died in 1944 and Sara sold the estate in 1955.
The Poet's Cottage
Living on top of the world, the most breathtaking views from the estate can be seen from here. The beams are still inscribed with original poetry which include "There are hills for all/There are oaks for all/And the airy blue covers the world.". The views inspire today as they did almost 100 years ago. The 3rd photo is the hillside behind the cottage that leads to the top of the estate.
Sold by Duane Adam
OLP: $8,999,950
Original Cats Estate. 5 parcels, 36.76 acres.
34.23 acre "Ranch" and additional parcels offered separately.
Call for full details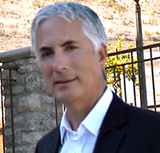 Sotheby's top 1% sales volume 2014
Duane Adam
Sotheby's International Realty
t 408.710.9484
Accomplished Realtor/100's SOLD (BRE #00863593)
State Certified Appraiser (BREA AR017518)
Staging, Real Estate Film-making, Advanced Internet Marketing

These sellers chose Sotheby's... so can you.




SOLD by
Duane Adam
Sotheby's International Rea
lty


(408) 710-9484
"The Cats" estate in Los Gatos is one of the most well known properties in Northern California.

The estate became famous in the 1920's after writer Charles Erskine Scott Wood and poet Sara Bard Field purchased the land as a weekend retreat. They stayed in a small cottage during their weekend stays and built the main house in 1925 on one of the most breathtaking homesites in the entire bay area. Two additional homes (The Gatehouse and the Poet's Cottage) were constructed on the estate during the 1920's and each remains in well kept condition with their original character carefully preserved. These are collectible buildings and walking through them conjures visions of the many artists and dignitaries who have stayed within their walls. This is a magical place.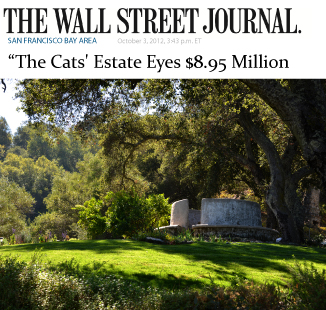 Read the Wall Street Journal "Cats Estate" Story
_______________________________________
Woodside Estate sells for $117.5 Million
Mercury News Story
_______________________________________
The Stone Cats have become a Los Gatos landmark and you see them replicated everywhere. These original sculptures were completed in 1922 by artist Robert Paine at the direction of the estate's first owners. Cats were chosen as the subject not because of their reference to Los Gatos, but because the owners decided they were the most beautiful animals for this type of art.
This famous Los Gatos estate hasn't changed hands in more than 50 years. This is a once in a generation offering for a storybook property.
When you drive through the gated entry for the first time you simply won't believe you're less than a mile from downtown Los Gatos. There is a transformational feeling of being away from it all as if one were at a national park or a resort. There's pure privacy. No cars, no crowds and you're free to do as you wish on your own acreage retreat. There is a feeling of creativity, of peace, and of being at one with nature. Nobody ever wants to leave this land and there's no place else quite like it.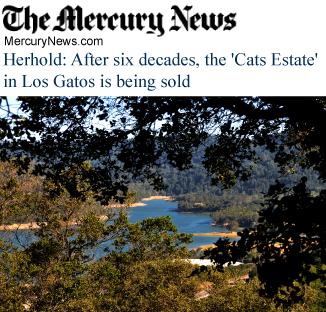 Read the San Jose Mercury News Story

"The Cats" estate is a Los Gatos monument that dates back to the early 1900's. John Steinbeck, Charlie Chaplin, Eleanor Roosevelt and many others graced this property in days gone by. It is a grand old estate...prominent by every measure.
_______________________________________
Bay Area luxury home sales boom in 2012
SF Gate Story
_______________________________________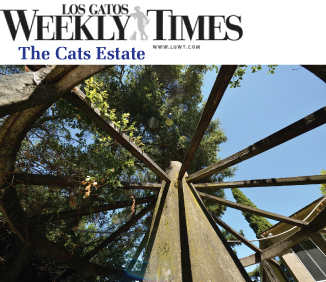 Read the Los Gatos Weekly "Cats Estate" Story
Facts and Features
Main House:
3985 Square Feet
Built in 1925
5 Bedrooms
4 Bathrooms
Remarkable Valley Views
Finished Basement-perfect for wine cellar
View Amphitheater
Terraced Courtyard
Famous collection of notable "attached" art work
Additional Buildings:
The Gatehouse
The Poet's Cottage
The Ranch
The Geodesic Dome (possibly the world's most enchanting treehouse).

Additional Features:
Gated entry featuring the famous Stone Cats
Riding/biking trails
Poet's Canyon
The secret benches
The round bench
Superb acreage for horses
Natural splendor, a photographer's paradise
Natural springs
Suitable for vineyards
Mountain, valley and lake views

Chain of ownership:
1920-1955
Charles Erskine Scott Wood & Sara Bard Field
1955-1960
Fred G. Hampton

1960-2014
Ogilvie Family